Posted by
suwari under Contest
I love OnlyGizmos post about
iTunes new pricing goes live
, even though iTunes reduce their price from $0.99-$1.29. Amazons still sell on their song with cost $0.99.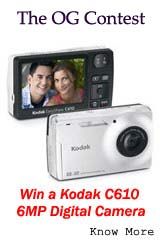 Contest URL:
O
G Contest: Win a 6MP Digital Camera and more!
Prizes:

1x Kodak 6 megapixel digital camera
5x Worlds smallest memory card reader
How to enter:


Pickup your favourite article from OnlyGizmos and blog about it.
Leave a comment at the contest post.
or
Twitter user with more than 500 followers can twit about the post.
Rules:
    * 1 Person can participate only once in this particular giveaway
    * Just leave a comment at the contest post with the link of your blog post / or the Tweet  status about your favorite article.
    * Only 25 randomly selected tweets would enter the contest, though all blog posts qualify
    * Blogs participating in the contest should be more than 3 months old with at least 10 posts live as on 6/5/2009
    * You can pickup any article from the site
    * The contest is open from 6th April to 6th May 2009 (Comments shall be closed on the post to indicate that the contest if over)
    * Winners shall be chosen randomly via random.org
    * We can ship prizes worldwide. So contestants from all countries can participate
    * Be sure you enter your correct email id while entering the comment below for us to contact you in case you are the winner
    * @netra - one of the most trusted names around the web would run the random query to chose the winners